I'm pleased to announce that I will be a special guest speaker at  the first annual "My Dizahyrd & Destined Destination" Visions & Goals Social Gathering. This event will be focused on setting goals and taking the necessary actions to achieve those goals. My presentation will motivate the audience to seek entrepreneurship and drive home the importance of creating an online platform for your brand. Tickets are now on sale! Continue reading to learn more about the event, hosts and other guest speakers.
God Is The New Black, Inc. presents a Vision Book and Goal Accountability Social Gathering event where the audience is motivated to make dreams a reality. GOAL SETTING IS TURNING YOUR VISIONS INTO ACTION. A vision without detailed and concentrated goals is just adizahyr or an anticipation. Without targeted goals, how will you ever know if your vision is being accomplished? A vision needs direction with milestones, but how do you determine what those goals are? These topics will be addressed at this event.
EVENT DETAILS:
When: Saturday, January 14, 2017
Where: Villas of Friendly Heights
1300 Friendly Heights Blvd. Decatur GA 30035
Time: 1:30 pm – 4:30 pm
TICKETING INFORMATION:
Tickets can be purchased here:
www.my3dvisionsandgoals.eventbrite.com
PAYMENT AT THE DOOR WILL NOT BE ACCEPTED!
ONLY TICKETED GUEST WILL BE ABLE TO ENTER, NO PLUS 1's!
Each guest(s) that purchases a ticket will receive a:
– 3D Visions & Goals Accountability Workbook
– Personal Supplies Bag
We will provided all with magazines as well, along with refreshments and beverage.
Avonti Adizahyr
Woman of GOD! Inspirational Songstress, Songwriter, Author, Entrepreneur. Founder of God is the New Black, Inc.
www.iamavontiadizahyr.com/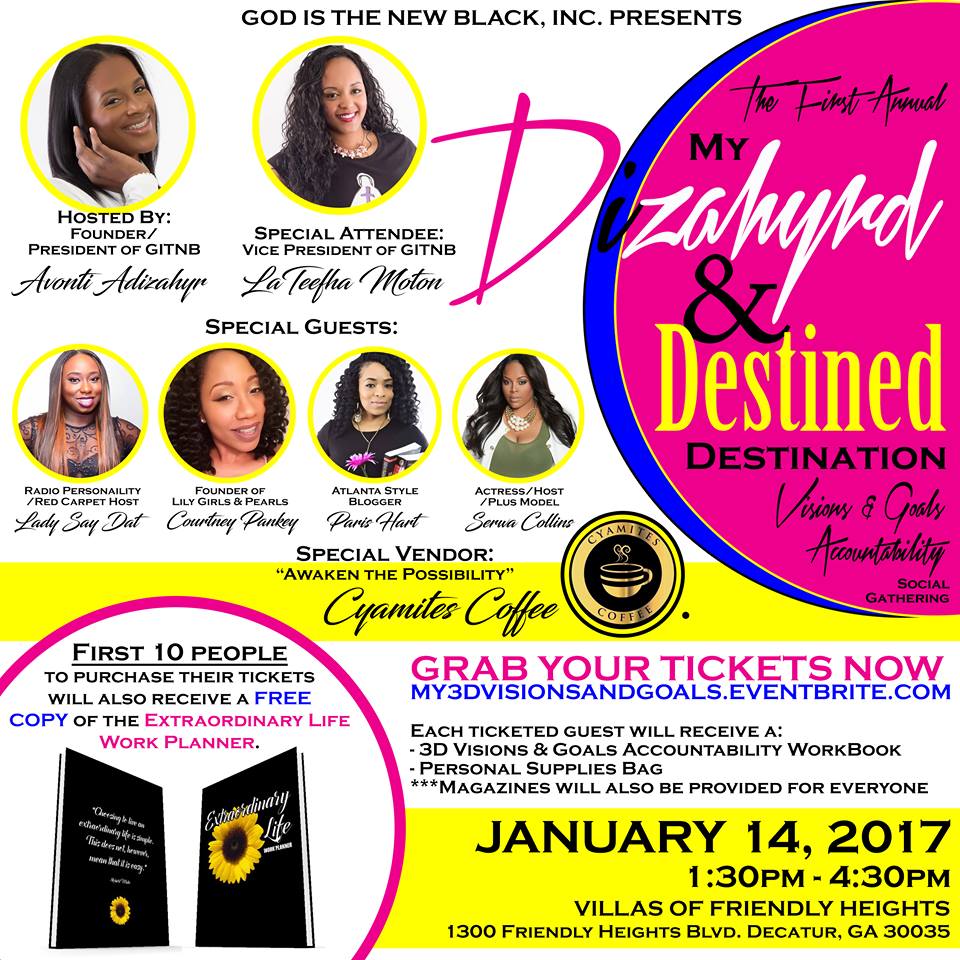 385 Total Views
2 Views Today